5th at The Guinness Storehouse in Dublin was developed as an experimental, organic project, evolving between 2000 and 2003. The programme included sixteen exhibitions of national and international artists from all levels and forms of art practice. In support of this programme, 5th constructed a multipurpose gallery space, an oasis within the bustling envioronment of The Storehouse. The gallery space was sound proofed, equipped with moving walls and high spec multimedia, fully sympathetic and dedicated to contemporary art practice. It was designed by Artistic Director / Curator Paul Murnaghan.
There were many occasions when 5th spread an eclectic mix of contemporary art, performance and music beyond it's physical space, such as DEAF - the first and second Dublin Electronic Arts Festivals. With over one million people visiting the Storehouse each year, 5th exposed a considerable audience to contemporary art. The gallery closed it's doors on Sunday 22nd of June 2003, the last day of the exhibition 'Undeveloped Memory' by Kimio Tsuchiya.

An archival snapshot of the 5th exhibitions program, the bones of the original website, can be found by clicking on the 5th icon above right.
Tripswitch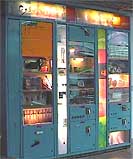 Tripswitch - Fintan mc Carthy + Joanne Hogan (Decode) - Robert Carr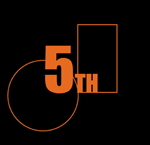 home
As a prelude to the 5th gallery Tripswitch was devised, constructed from a wall of 25 metal electrical containers salvaged from the original building. Each container was viewed as a singular space which developed into a revolving exhibition of small works situated on the 5th floor of the Guinness Storehouse. Murnaghan invited Mark Garry to be curator of Tripswitch. The space was presented as a group of miniature galleries which bought together some of the most talented young artists working in Ireland and included a body of international work. The content was as simulating as it was diverse, utilising a broad range of media and contexts.

Circa Magazine, March 1st 2002.

Art on a small scale is a viable option for young up-and-coming artists; however, even the big names seem to be zeroing in on the very particular charms of art that doesn't hit you on the head with a hammer.
Tripswitch: in the Guinness Storehouse is an exhibition of 25 tiny installations set into an existing electricity mains on the fifth floor. Curated by Mark Garry, it is an ongoing, revolving project displaying the work of young artists. The variety of ideas expressed within such miniature surroundings is impressive. The space is very much a product of Paul Murnaghan (of the 5th gallery) and his wish to utilise the building in its entirety as a showcase for art and design. Each artist deals with the space in a different manner, some crowding in as much as possible, some availing of the existing electricity supply and some using it like a conceptual mantelpiece.
Precious by Christophe Newman is one of the newer pieces and consists of typical china ornaments painted green and covered in geometrical markings, breaking the objects into universal matter. What one considers precious is now made up of the same substance as everything else - everything should be treated as precious because it is so to someone? Karl Burke, who has contributed to _ din , the innovative sound exhibition at Arthouse, has an installation that fills the dimensions available with a contemplative, minimal flair under
the title Dividing a space . Louisa Sloan's Sheep deals with authorship and group mentality. We see a pen full of sheep with 'Louisa' written on their backs and are forced to ask whether an artist can claim ownership over an idea or object by attaching his or her name to it.
Overall, the process of working within limited surroundings forces the artist to be condensed in thought and light of hand. It is a pleasure that so many of the pieces succeed. Placed near the 5th gallery, Tripswitch: puts itself in the way of people who are going to look at art, yet it doesn't advertise itself, preferring instead to be found. There is an element of snooping involved when looking at little art; this feeling is magnified when the viewer is not overtly invited. It leads to a personal interaction with the idea; sometimes we don't get the idea, but that makes the ideas we do get fresher and more surprising. The sense of discovery creates an atmosphere of conspiracy between the viewer and the artist that is mutually exciting.

Cunningham's Flex, at 5th Gallery, Circa 103 by Lorraine Whelan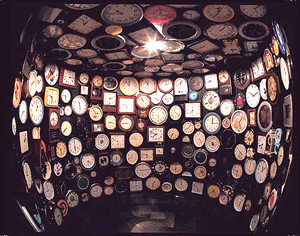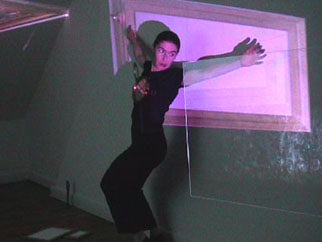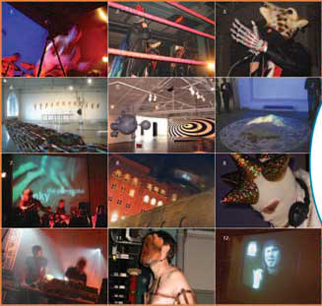 Installation shot, 'Undeveloped Memory', Kimio Tsuchiya
Anne Seagrave.
Deja Vu.
Performance and installation.