For 'A line Describing Nothings' members of the public were offered 'free past life regressions', through on-line and printed advertising. These sessions came with one stipulation, that participants sit with artists immediately after the regression an assist them in rendering drawings based on the places and people of their experience. Sixty applications were received, ten volunteers and five artists took part in a continuous process of regression, discussion and visual manifestation over an intensive April weekend.
Each of the ten individuals revealed detailed descriptions of rich and varied past lives whilst under hypnosis. The resulting fifteen meter drawing uses a visual and textual narrative to convey the experience of the regressed participant, through the immediacy of the artist's drawn responses.
Regression Drawing. Pencil and marker on Fabriano paper, hung with 200 magnets, lenght 15 meters.
"I know where I am, but I do not feel as though I'm at the spot where I find myself...then the body separates itself from thought, the individual breaks the boundary of his skin and occupies the other side of his senses. He tries to look at himself from any point whatever in space. He feels himself becoming space, dark space where things cannot be put.... He is similar, not similar to something,
but just similar. And he invents spaces of which he is the convulsive possession."
Roger Caillois , "Mimétisme et Psychasthénie Légendaire" (1935), in Michael Taussig, Mimesis and Alterity: A Particular History of the Senses (New York: Routledge, 1993), p. 34
| | |
| --- | --- |
| Mandala Windmill: Materials - Antique fan, wood, bicycle axel and paper bags. | Materials:Dropped industrial fan 5M electrical piping |

Paul Murnaghan's projects often take the form of invitations. In Memorious (2006), the invitation was an advertisement, in which the artist offered part of his memory to hold the recollection of another. During the next year, Auto Da Fe (2007), was an invitation to believe - as Murnaghan created an artwork, in the soon-to-be-demolished Pallas Heights Gallery, that no one would be allowed to see. Sitting between belief, knowledge and faith and drawing on the generosity of exchange, this latest project,'A Line Describing Nothings', continued these themes by asking people to undertake 'a past life regression', and then to assist in the drawing of artworks based on the recovered, or discovered 'memories'. Wonderful, and somehow surreal, these works are not attempts to solve the mysteries and myths of past lives, collective memory and master narratives, but are instead simply responses to the information received.

Gemma Tipton, extract from ''A line Describing Nothings' , the LAB' Catalogue.

A red line cuts through the walls of the gallery, changing form from pure laser light to metal and plastic. A mandala spins like a windmill, a massive ceiling fan changes the air over the viewer. The works exhibit a form of flawed, ontological candor. Invisible forces play subtle parts in holding the things together. Dry ice, magnetism and light are used to convey concepts relating to things insubstantial yet persistent, which was a catalyst for this body of work, allowing consideration of something just beyond our peripheral knowing.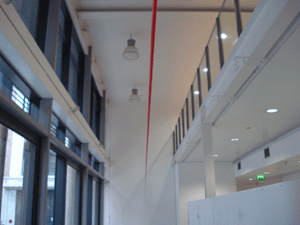 Materials:Tensioned red plastic covered wire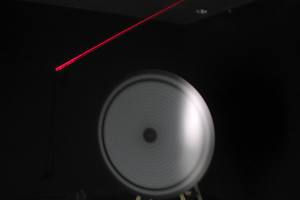 Materials:Laser, dry ice, timer.
Many thanks to Sheena Barrett and Keith Kavanagh for their help in realising this project.